What is Video Compression?
Video compression is a technique used to change the file size, number of bits, or format of a video while preserving the original visual quality. The primary goal of video compression is to reduce the storage space a video file will occupy to facilitate seamless transmission over the internet.
To perform video compression, we use lossless or lossy codecs (encoding and decoding software) that discard unwanted data from the videos to reduce the file size without significantly affecting the overall visual quality. Latest compression algorithms like H.264/AVC or H.265/HEVC can compress raw footage up to 1,000 times.
Video compression ensures wider content reach, improves user experience, and saves operational costs.
Schedule a Demo with Our Video Expert!
Discover how Gumlet can help you build a cutting-edge video streaming infrastructure.
Why is Video Compression Required?
Compressing videos to optimize file size, storage demand, and bandwidth is important to ensure faster uploads, shareability, and a smooth viewers experience. Video compression offers a range of advantages:
Reduces file size: The main purpose of video compression is to reduce video file size, which is often too large to share or upload on the internet. For instance, if you shoot a Full HD or 4K video using your smartphone or camera, it will take you hours to upload it to a hosting platform or even social media—provided that the platform doesn't have data limitations. In addition to this, you will require a high-speed, stable internet connection, high processing power, and sufficient storage space (a 1080p file can amount to 11 GB of space per minute).
Reduces storage space: Video encoding technologies with video codecs like H.264/AVC and H.265/HEVC can compress files by up to 1,000 times. Compressing videos makes it easier to download and playback videos on any device.
Faster uploads and downloads: Reduced file sizes are easier to read and write and do not require excess bandwidth. This ensures video hosting platforms don't take hours to playback videos despite poor network conditions. It also improves user experience.
Speedy transfers: The larger the file size, the longer it will take to transfer. For instance, a 500 GB file would take a minimum of 90 minutes to transfer at a steady internet speed of 100 Mbps. However, if you compress the file and make it 10 times smaller, you can transfer it within 9 minutes only.
Barring video files that are recorded on a smartphone or a professional digital camera, most video files get compressed by default when you transfer them via a sharing platform. Plenty of consumer-level cameras even use codecs to compress videos while in the process of recording.
How to Compress Video Files?
There are three ways to compress video files to make them smaller in size. The fastest way is to reduce the video resolution, for instance, 4K to 1080p. However, this doesn't give you the control to decide the level of compression.
Another way is to shorten the number of frames displayed every second. This will effectively reduce video size and deteriorate the video's quality.
The third and probably best option is to trim your video. You can eliminate the unwanted parts of the video and shorten the duration, which will effectively shrink the file size and ensure quicker uploads to social media platforms.
PC owners can compress video footage on Windows and Mac OS using compression tools. You will also find video compressors for iOS and Android which help you perform video compression without quality loss.
All you have to do is—
Install and download your preferred video compressor
Launch the compression software and upload the video footage you wish to compress
Adjust the settings for your target file accordingly—the resolution, video compression format, encoding settings, bitrate, etc.
Start the compression process.
Once done, you can download and import the compressed file to your desired destination.
Top 10 Video Compression Tools
Here's looking at the top 10 video compression tools that can help you make your files smaller:
VEED is a simple and user-friendly video compression tool that offers a quick solution for video compression. Since it is an online tool, you needn't download or install it. Once the compression is complete, you can import the file to the desired destination.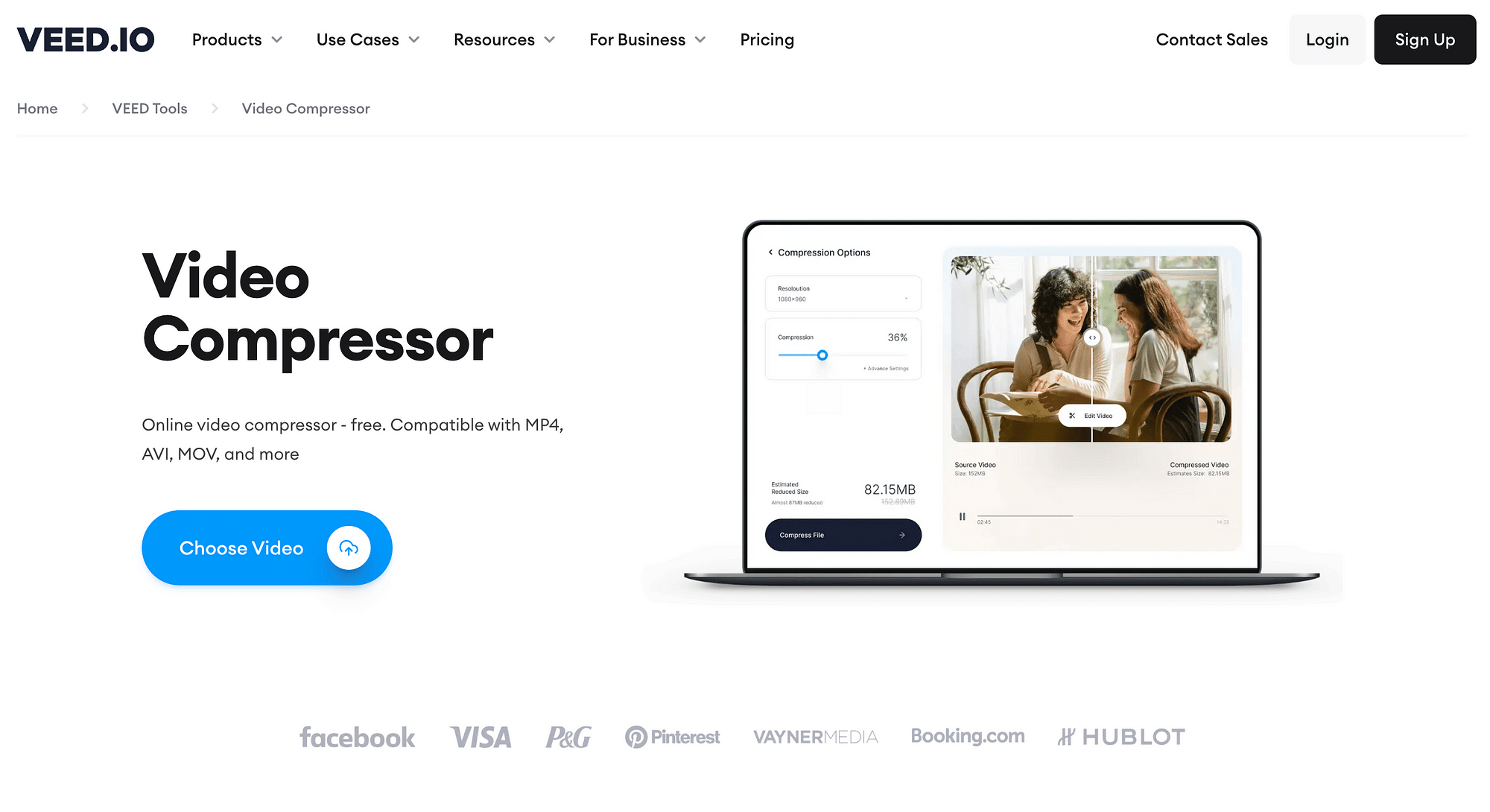 Pros
Stands out with its user-friendly and clutter-free UI.
Online software that supports all major browsers and platforms.
Cloud-based storage.
Supports MP4, MKV, MOV, AVI, and more.
Cons
Limitations on file size (250 MB), quality (720p), and storage (2GB).
Features:
Auto-generated subtitles for up to 30 minutes in the free version.
Uses cloud-based storage.
The paid version includes engagement insights.
Includes text animations and templates.
Allows you to screen-record videos.
You can overlay stock audio, video, or photos to videos.
Technology and Platform Details:
Veed leverages SaaS/Web/Cloud to provide quick and efficient video compression. There is no app for Veed.io; it is an online software that works on all major browsers.
Free Trial Option/Pricing:
Free, and three paid options if you wish to upgrade:
Free: Best-suited for short, one-off projects.
Basic ($12 /month): For individuals and freelancers looking for basic video editing tools and unlimited stock images/videos.
Pro ($24 /month): For small businesses looking for branding tools, translations, and unlimited video compression.
Business (custom quote): Best for advanced collaborative projects—includes engagement analytics, 200GB storage, premium stock, and more. Free trial offered to enterprise customers (minimum 6 users required).
What is it best for?
If you opt for the free version, it is excellent for creating basic videos, small creative product videos, and brief video explainers.
Paid options will bring you a range of advanced editing and collaboration features, depending on the plan you choose.
Clideo is an online platform that allows users to edit, compress, convert, easily and resize videos and audio files. It offers many features and tools to help users quickly create and share their media content. The platform is easy to use and provides a secure and reliable system for users to store, share, and manage their files.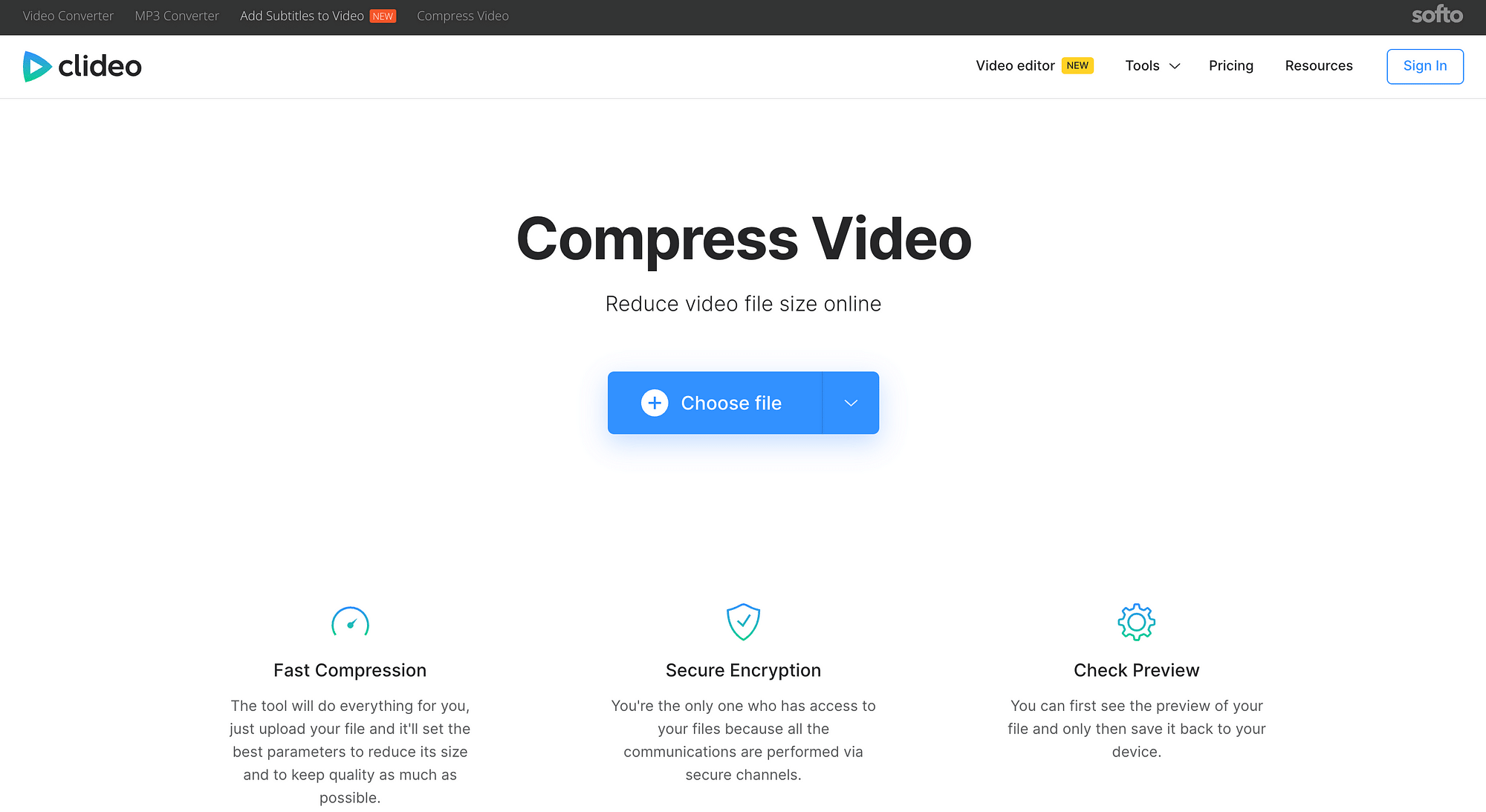 Pros
It is a quick, user-friendly tool that doesn't require additional video editing skills.
It produces high-quality end results.
It includes secure encryption.
Allows sign-in using Facebook or Google.
You can compress files up to 500 MB for free.
Cons
To get rid of watermarks, you will need to upgrade to a paid model.
Clideo only supports a few video file formats, making it difficult to work with more complex video formats.
Long waiting time was reported for processing videos by multiple users.
Features:
Users can edit videos to include personalized branding and call(s)-to-action.
Includes a range of video editing features, including text overlay, video merging, splitting, trimming, etc.
Provides a preview of the final file before download.
Since communications take place via secure channels, Clideo is safe to use.
Technology and Platform Details:
Clideo is a SaaS-based subscription video tool that works on the Cloud, which makes it a great collaborative option for small, medium, and large enterprises.
It is designed for both mobile and desktop usage; Apple users can download it from the App Store.
Free Trial Option/Pricing:
Free and upgradable to Clideo Pro at $9 per month. The Pro version offers unlimited storage for large-scale projects and does not include watermarks. It works exceptionally well for short videos; longer videos tend to crash.
What is it best for?
Clideo can perform a range of video editing functions, from editing, merging, trimming, cropping, and resizing to altering video speed, creating video collages, slideshows, and more.
You can also add music to videos, create video loops, and flip and reverse videos.
FreeConvert has an easy-to-use, intuitive video compressor that allows you to compress video footage to your target file size, resolution, or bit rate.
FreeConvert is a website that provides free online file conversion services. It enables users to convert various file formats, such as documents, images, videos, audio, archives, and more, into other formats for easier use and sharing. It is a simple and convenient way for users to convert files without additional software.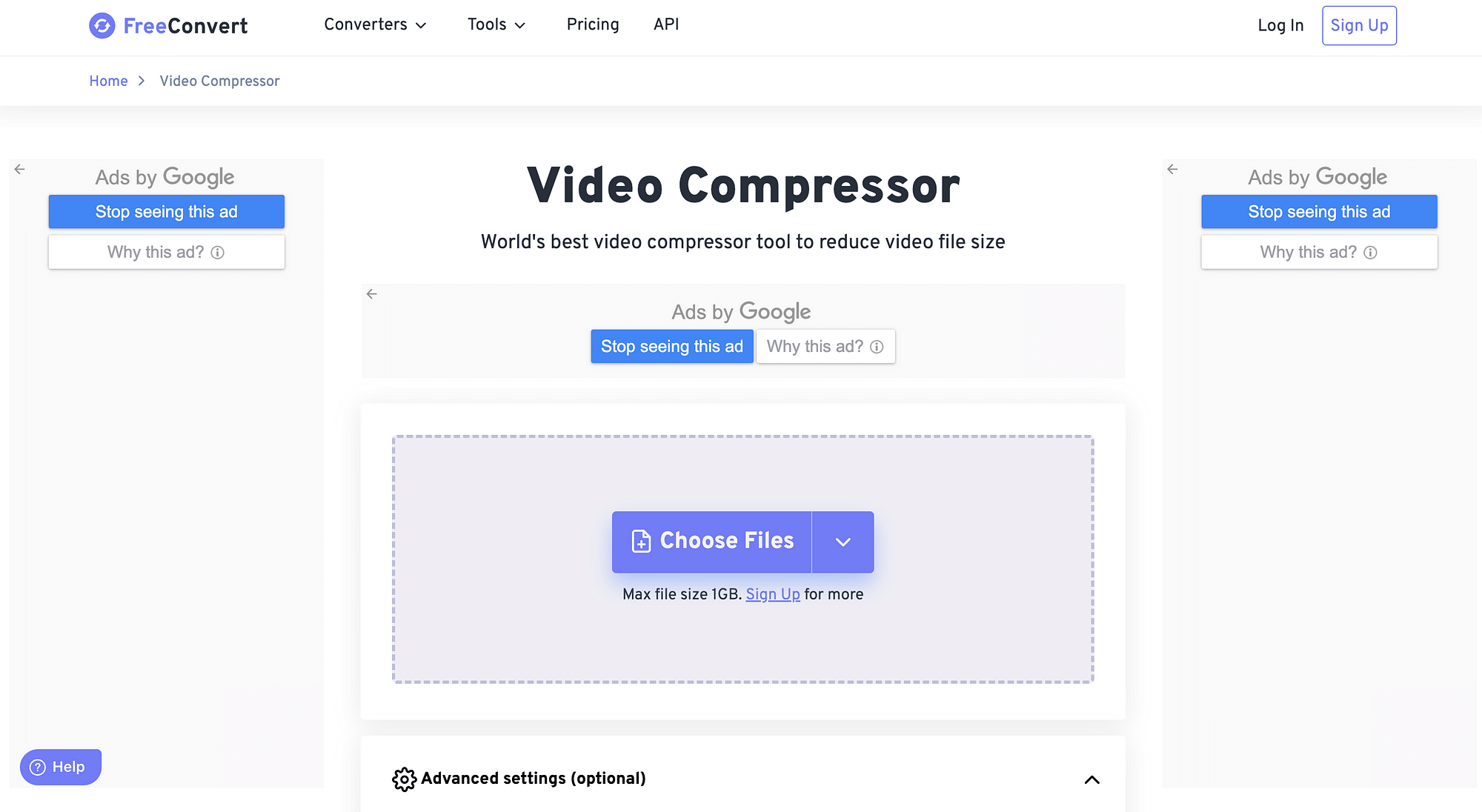 Pros:
Can convert up to 1 GB for free
Takes a few steps to compress.
Supports MP4, MOV, AVI, WMV, and more formats.
No pop-up ads are displayed while the compression is in progress.
Speedy downloads.
Multiple paid options for different budgets.
Users have the option to choose between H.265 and H.264 codecs.
Cons:
The free version includes limited file sizes and a daily limit for the number of conversions.
Longer Video Processing time.
Features:
Can convert video, audio, image, and docs.
Includes file merging capabilities.
Secure uploads via HTTPS protocol.
Supports batch conversions.
Technology and Platform Details:
It allows API integrations, is GDPR compliant and includes advanced encryption [ECC (256 Bits)]. It supports all major OS and browsers.
It is a web-based video software that works both on Mobile and Desktop. It has a user-friendly app.
Free Trial Option/Pricing:
Free and three paid options for users who wish to upgrade:
Basic ($9.99 /month): It allows up to 1.5 GB file size and 1500 conversion minutes/month
Standard ($14.99 /month): Supports up to 2 GB maximum file size and 1800 conversion minutes/month.
Pro ($25.99 - $59.99 /month): If you are a large-scale business looking to perform up to 8000 conversion minutes/month, Pro is the option for you. You can convert and merge 100 files at a time.
There is also a one-time, customizable option starting from $12.99 to $74.99 for file sizes ranging from 1.5 GB to 7 GB.
What is it best for?
It is great for compressing smaller-sized videos for free online—be it audio, video, images, or documents.
Good to compress MP4 files as well.
Video Candy is free and online. It is a feature-rich video editor that doesn't require a recurring membership fee to compress video without losing quality online.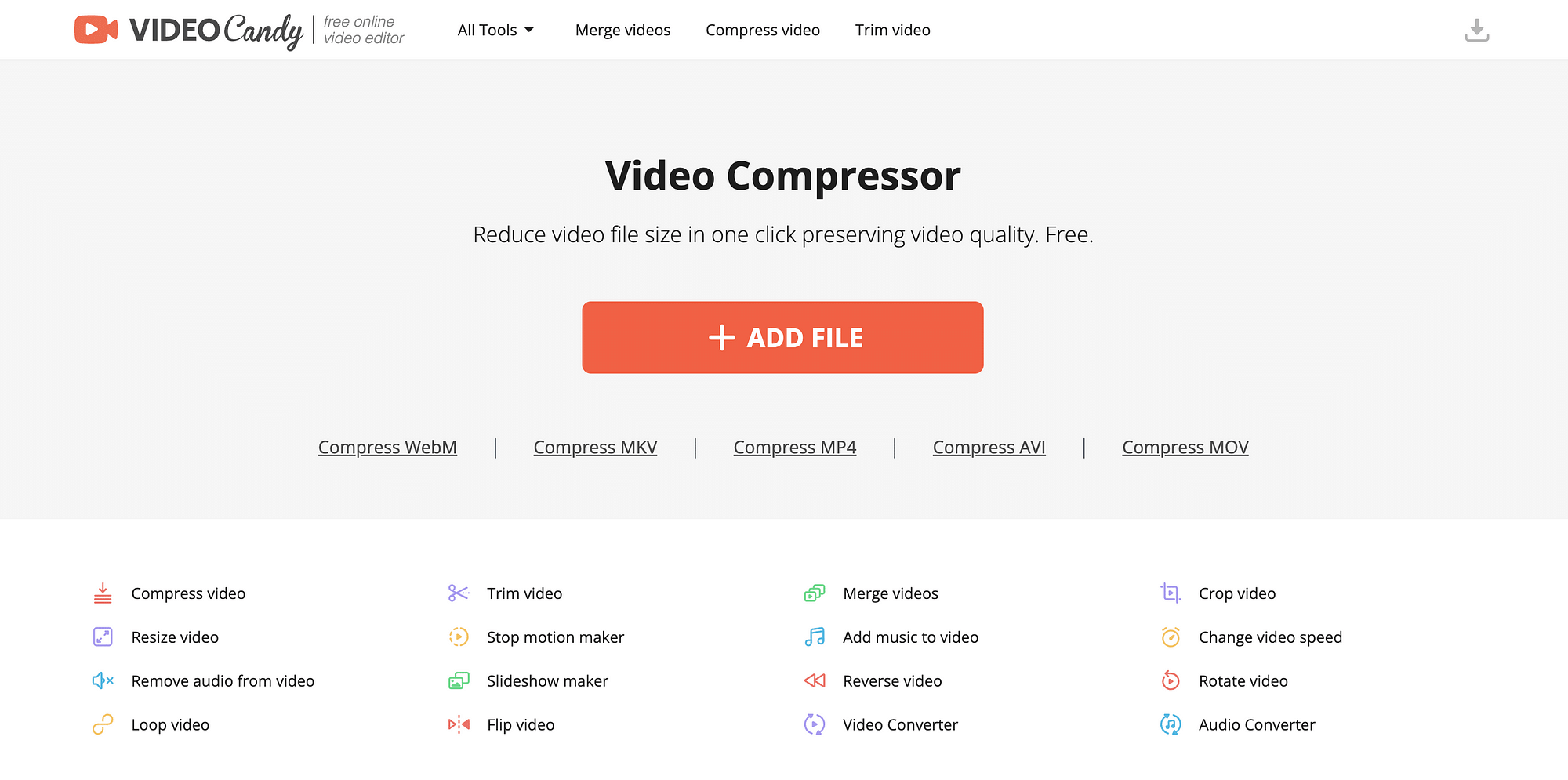 Pros
It has no watermarks on exports.
No sign-up is required to compress videos.
It allows videos up to 2 GB in size.
Cons
It only supports a few video file formats.
No Cloud Support to access or save files in the future.
No live customer support.
Features:
It offers video editing features like flipping, resizing, rotating, converting to gifs, looping, adding music, and more.
You can make additional edits to the compressed video, which includes audio removal, video reverse, etc.
The processed videos are available for 120 minutes on the platform for use.
Technology and Platform Details:
It is online software. It doesn't have an app. It uses Cloud technology to facilitate uploads to Dropbox and Google Drive.
Free Trial Option/Pricing:
It is a completely free tool.
What is it best for?
It is best for compressing up to 2GB of videos for free.
FlexClip is a powerful online video compression tool that enables users to compress videos quickly, conveniently, and easily. It provides an intuitive interface and a range of advanced features that makes compressing videos simple and fast. It also features an intuitive drag-and-drop interface, powerful editing tools, and hundreds of templates. The tool also supports a variety of video formats, including MP4, AVI, and MOV, making it the perfect choice for compressing any type of video.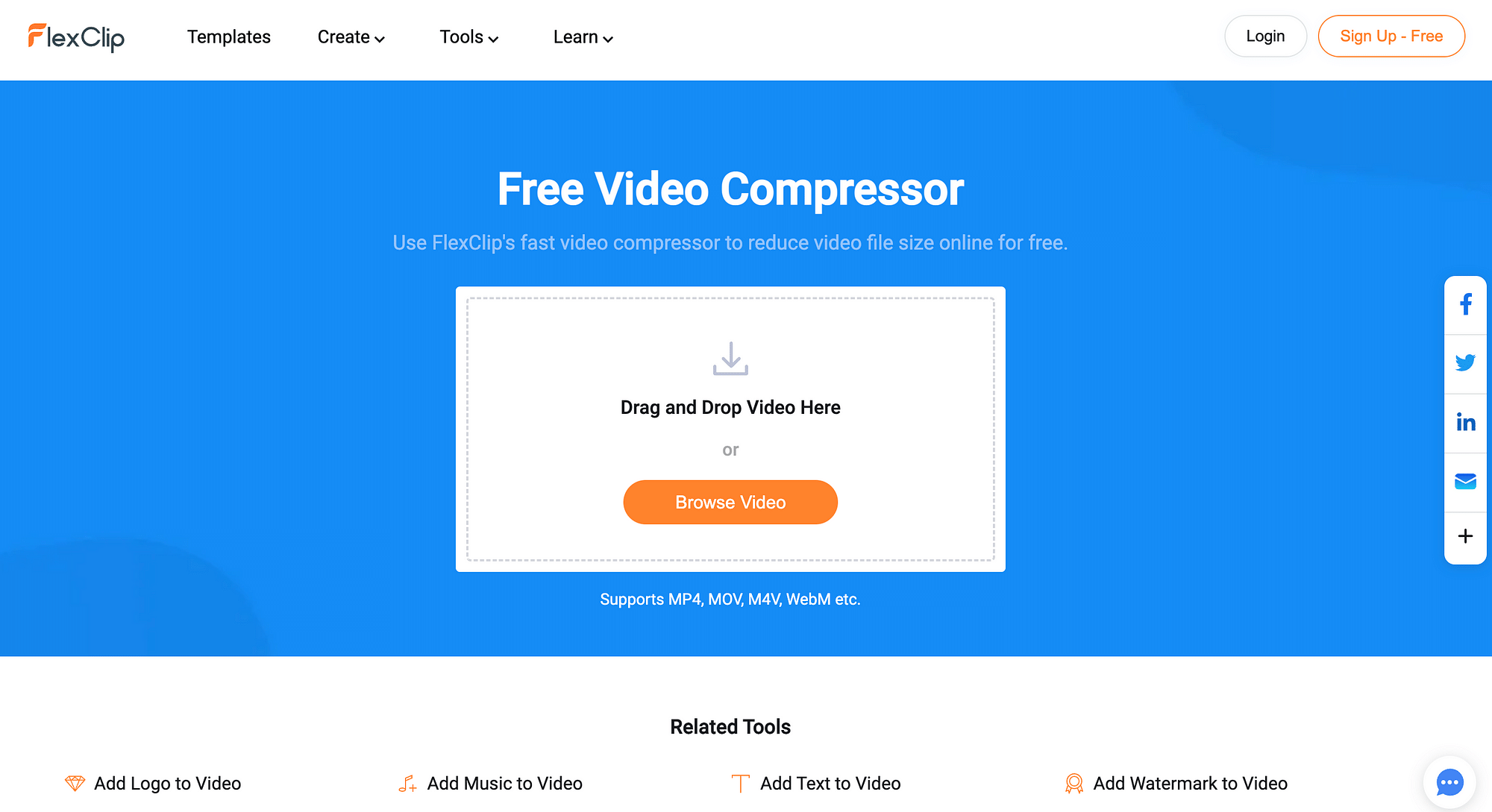 Pros
Supports video formats such as MP4, MOV, and M4V for compression.
Guarantees security.
No watermark on downloaded files.
Royalty-free stock catalog for free users as well.
Cons
Advanced features require a subscription.
Fewer output formats as compared to other video tools.
Relatively basic editing options.
Downloaded files include a short FlexClip intro for free users.
Features:
Allows music, text, image, and video overlay.
Lets you convert video to different formats.
Includes a video collage maker, motion graphics maker, meme creator, gif creator, and more.
Other video editing functions include trimming, merging, rotating, flipping, and more.
Technology and Platform Details:
It leverages SaaS, the web, and the Cloud to provide the best results to individuals and business owners. It doesn't have an app.
Free Trial Option/Pricing:
Free and upgradable to three premium plans:
Basic ($5.99 per month): It supports up to 720p HD downloads, 10GB Cloud storage, and 50GB video hosting space.
Plus ($9.99 per month): It supports 1080p Full-HD downloads, 30GB Cloud storage, and 100GB video hosting space.
Business ($19.99 per month): The business plan supports 1080p Full-HD downloads, 109GB Cloud storage, and 1TB video hosting space. It also includes unlimited stock resources and the option to save up to 200 templates.
What is it best for?
It is best for YouTubers, bloggers, and freelancers looking to create professional short, versatile videos that can be shared on the internet.
Compress2Go is another compression tool that supports documents, Images and zip file compression along with video compression. Compress2Go provides greater control over the compression process and supports various video formats, including AVI, MP4, MOV, 3GP, FLV, and more. The intuitive interface makes it easy to start and quickly compress video files.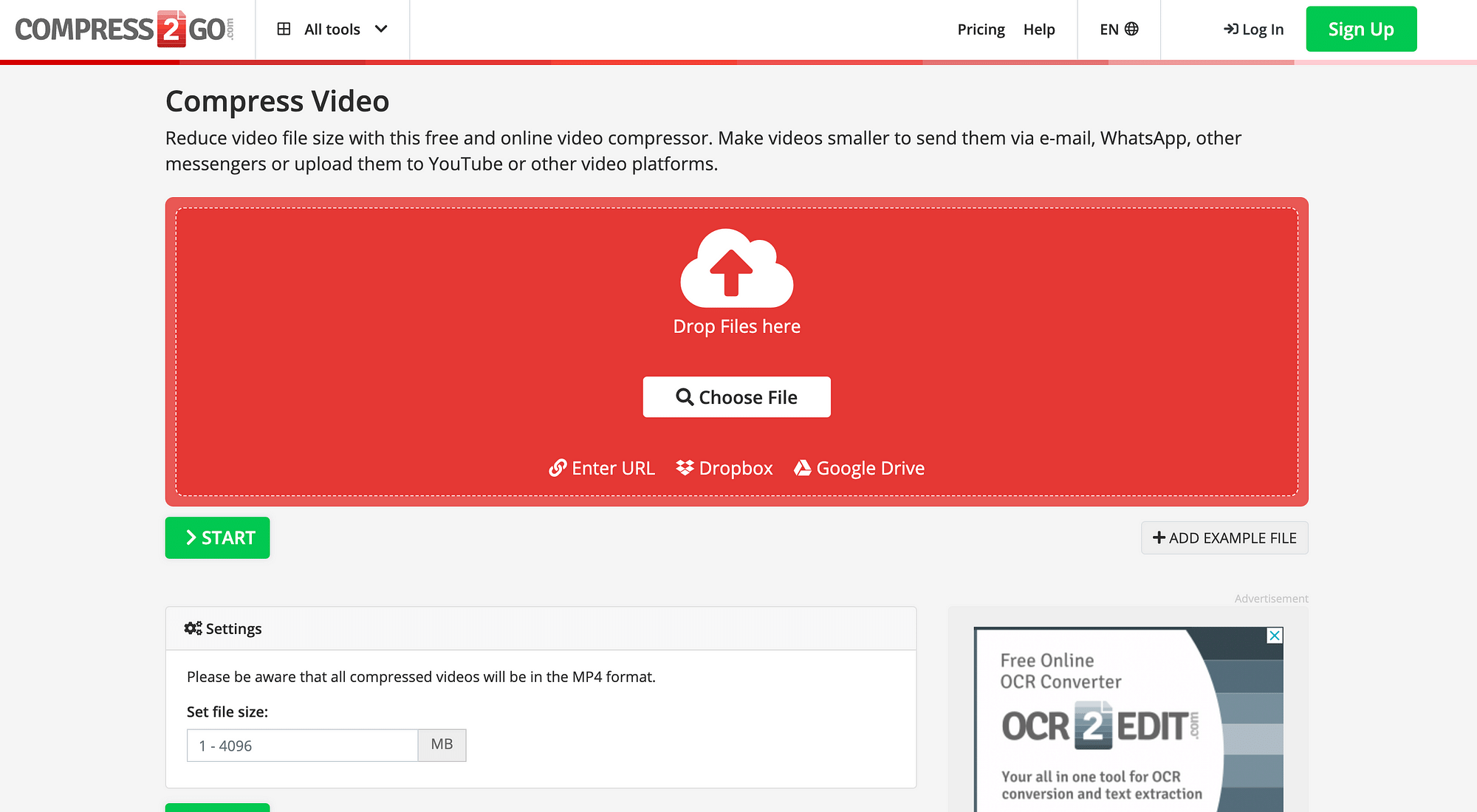 Pros
It supports batch conversions.
It provides Cloud file support.
It supports over 250+ file formats.
They provide a 14-day money-back guarantee if you are not satisfied with the product.
Cons
The file size is limited to 100 MB in the free trial.
The support response time is 48 hours in paid model and 7 days in the free trial.
The maximum processing time for long processes is only 30 minutes for the free trial, after which the process fails.
Features:
Supports Cloud storage; users can import and export files from Dropbox and Google Drive.
Allows compression of documents, images, and videos.
Technology and Platform Details:
It supports cloud collaborations via Dropbox or Google Drive.
There is no mobile application. It only provides browser support.
Free Trial Option/Pricing:
Free, and 3 paid options. Pricing plans can be customized based on the number of users and teams.
Professional ($6.50 per month): It allows up to one user to perform basic file conversions, editing and compression.
Teams: It supports 2-50 users to work as teams for file sharing, invoicing, and more.
Enterprise (custom quote): It includes personalized onboarding for enterprises with over 30 users. It also supports SLAs and custom contracts.
What is it best for?
It is best for editing videos online on web browsers without downloading or installing software.
OnlineConverter.com offers an easy and convenient way to compress video files. It primarily offers free online conversion services for a wide range of file formats and units of measurement. The tool is free, so you can easily compress your files without purchasing any software.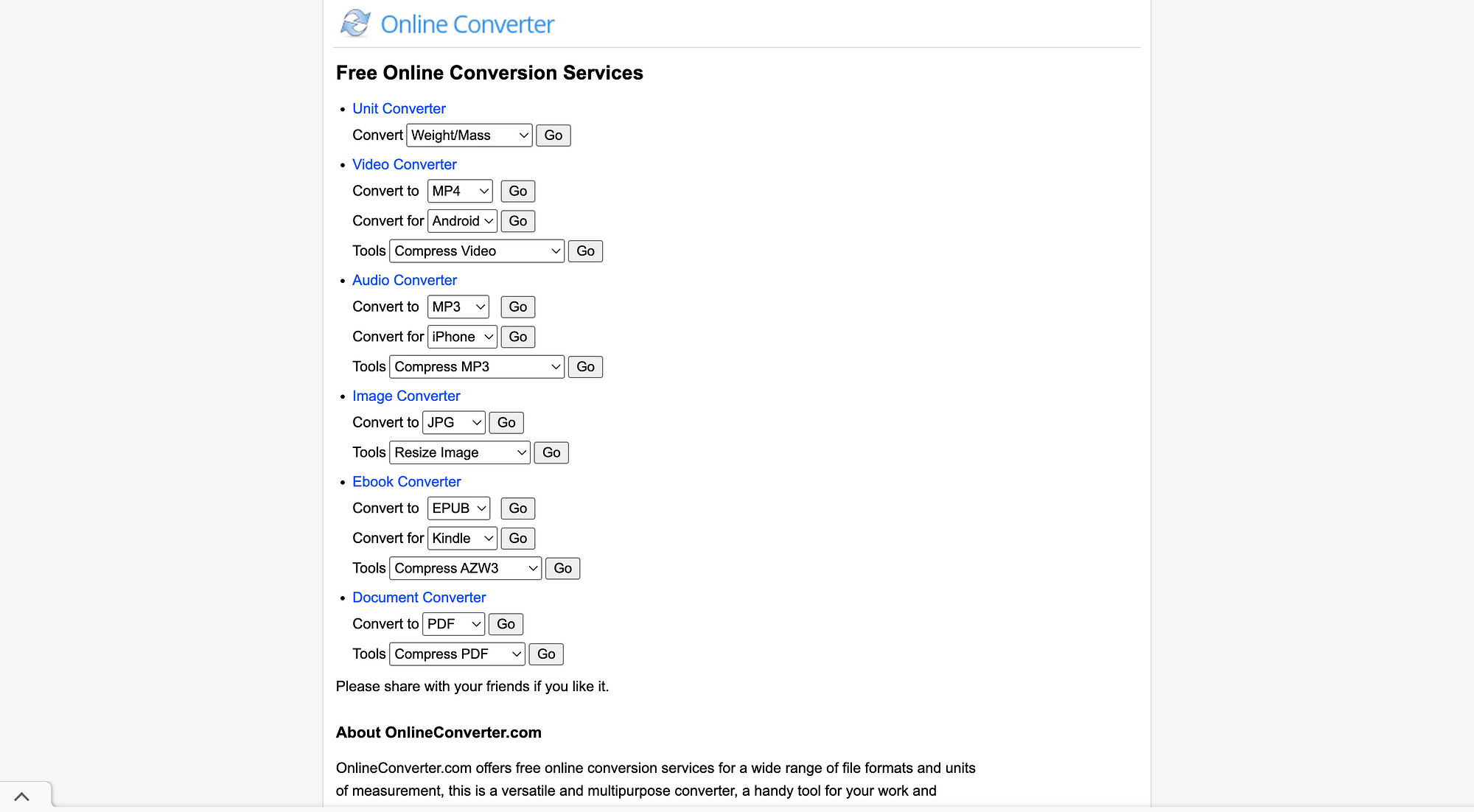 Pros
It supports multiple file formats such as MP4, AVI, FLV, MOV, 3GP, MKV, WMV and more.
It is a completely free online converter that is easily accessible from a PC or mobile.
It is quite simple and does not require any download or installation.
Cons
It doesn't support encrypted or protected video files.
There is a limitation on the video file size that you can upload. It can only compress a file with a maximum size of 200 MB.
No Customer Support.
Features:
It supports unit conversions.
It allows audio, video, and image compression.
It supports ebooks and document compression.
Technology and Platform Details:
The tool is developed by an independent software development team and includes multiple video codec support, and is also compatible with different storage devices.
Onlineconverter.com only has browser support and does not have a mobile application.
Free Trial Option/Pricing:
It is completely free.
What is it best for?
It is best for converting MP4 and MOV formats online.
Flixier is a robust online video editing platform that helps users create professional-grade videos quickly and easily. It provides a seamless solution for collaborative video editing across devices. It features an intuitive drag-and-drop interface, a library of customizable templates, and powerful AI-powered tools that simplify editing videos rapidly and easily.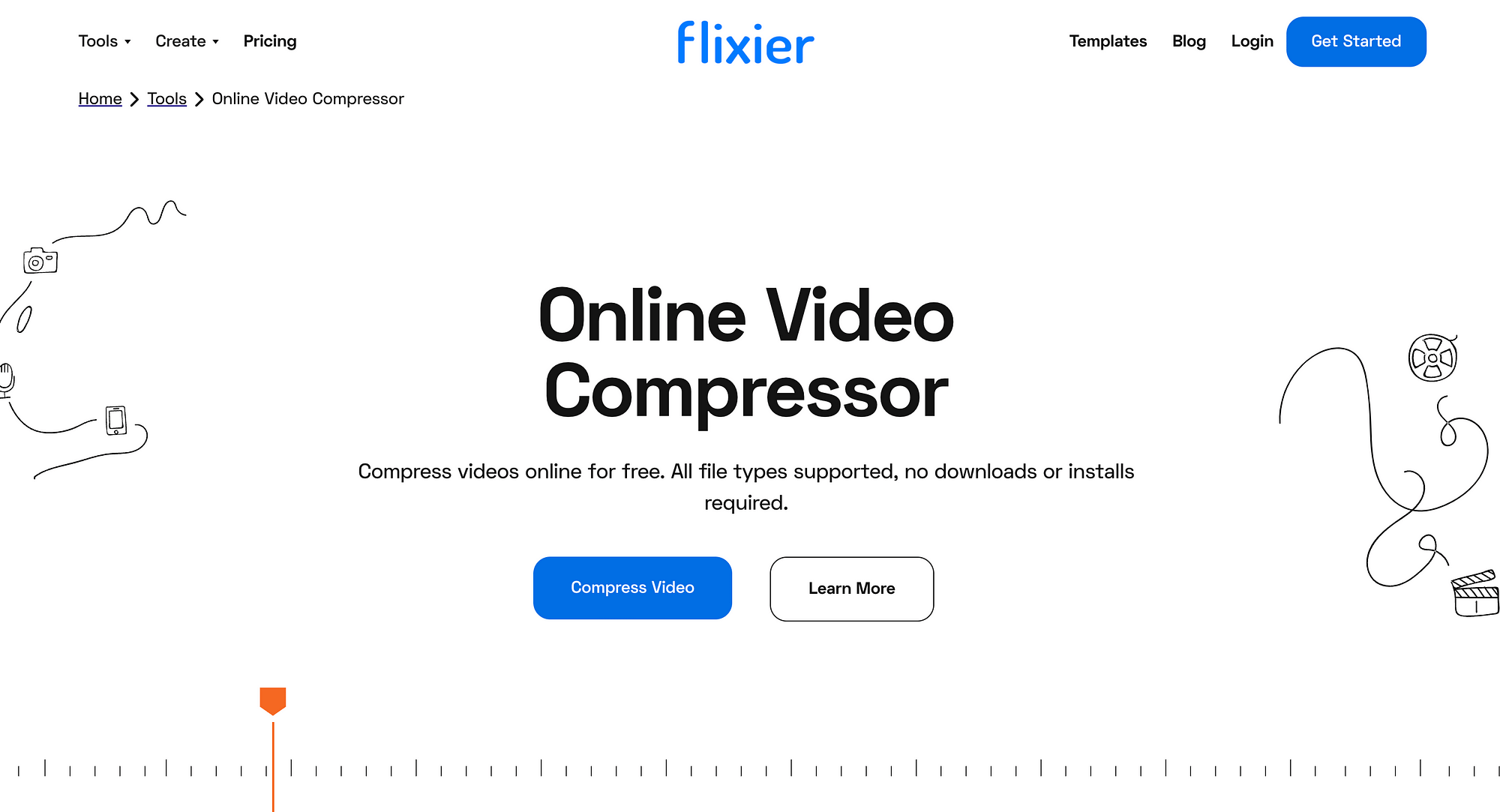 Pros
Supports batch conversions.
Quick cloud integrations.
Cons
The free version has watermarks in it.
You can only export 10 minutes of videos/per month in the free version.
The free version has only 2 GB of Cloud Storage.
Features:
Cloud-based editing capabilities.
Motion graphics and stock videos.
Technology and Platform Details:
Cloud integrations make it extremely swift and collaborative.
It doesn't have a mobile app.
Free Trial Option/Pricing:
Free, and three upgradable pricing plans for individuals, businesses, and enterprises:
Pro ($14 /month): It supports full-speed, full HD videos, 50 GB of cloud storage, and unlimited collaborators, among others.
Business ($30 /month): Designed for businesses, it allows 4K videos, includes 100 GB cloud storage, and a range of AI-powered tools for branding.
Enterprise ($55 /month): It supports powerful cloud integrations and boosted security to carry out advanced editing and collaboration activities.
What is it best for?
If you are looking for collaborative video editing with teams—especially long-format videos—Flexier is a good option.
Kapwing is an all-in-one video editor with numerous functionalities, including compressing videos for various platforms like Discord, Email, and YouTube.
It allows users to create, edit, and share videos quickly and easily. It is free to use and provides tools to add text, music, images, and more to videos. It can be used to create social media, ads, and other marketing content.
Pros
Kapwing is cloud-based, which means you can access your videos from wherever you are.
It supports MP4, MOV, MP3, FLV, AVI, WEBM, and website links (YouTube or TikTok).
No software installation is required.
Cons
The free version adds a watermark to the processed video.
Videos over 7 minutes are not supported in the free version.
The free version only supports up to 720p resolution.
Features:
Includes auto-subtitling and audio transcribing functions.
Collaboration features like commenting, sharing, and real-time interactions.
Cloud storage and support.
Technology and Platform Details:
Kapwing leverages HTML5, Google Analytics, Google Fonts, Tag Manager, Global Site Tag, and IPv6 to ensure the best video-centric results.
It works on mobile Apps and desktops both.
Free Trial Option/Pricing:
Free, and three paid options if you wish to upgrade
Basic ($6 /month): It includes basic features like creating images and videos (30 seconds max) with no Kapwing watermark.
Pro ($16 /month): It is for professional and branding use. You can create videos for up to 120 minutes and have unlimited access to AI editing tools, a brand kit, and more.
Enterprise ($16 /month): It is a great collaborative option for teams looking to streamline workflow using a shared workspace with unlimited storage, single invoicing, access to admin tools, and so on.
What is it best for?
It is best for video editing, meme generation, subtitling, overlaying videos, and more.
Movavi Video Editor is an intuitive online platform designed for video editing and compression. With a user-friendly interface, it caters to both beginners and professionals. The tool offers a range of features, from simple compression to advanced video editing, ensuring high-quality results for all users.

Pros
The tool is designed for users who may not have advanced video editing skills.
The compressor works directly in the browser without additional desktop programs or plugins.
The online video compressor has a user-friendly interface.
Users can choose from three compression options based on their needs.
Cons
The file size for compression shouldn't exceed 500 MB.
The free version saves the file with a watermark.
Features:
Movavi offers advanced AI features such as background removal, noise removal, motion tracking, and upscaling to enhance video quality.
It has an easy drag-and-drop editor and browser-based compression.
It has a simple compression process and multiple compression options.
Technology and Platform Details:
Movavi Video Editor is primarily a desktop application available for both Mac and Windows platforms. It offers a comprehensive suite of video editing tools, ensuring versatility for various video editing needs. In addition to the desktop application, Movavi also provides an online compression tool that operates seamlessly in browsers, allowing users to quickly compress videos without the need for any downloads.
Free Trial Option/Pricing:
A free version is available for 7 days, along with three premium options for those looking to upgrade.
Video Suite (1-year subscription)($94.95): This package includes the 2023 editions of Video Editor, Video Converter, and Screen Recorder.
Video Suite + Photo Editor (1 year)($104.95): This combo offers the 2023 editions of Video Editor, Video Converter, Screen Recorder, and Photo Editor with features like AI image enhancement, photo restoration, color correction, and more.
Movavi Unlimited (1-year subscription)($155.95): This comprehensive package provides access to everything Movavi has to offer, including the Video Suite, Photo Editor, Slideshow Maker, Gecata, and more, along with Effects Store add-ons.
What is it best for?
Movavi Video Editor is an all-in-one video editing tool that goes beyond just compressing videos. It's ideal for individuals who need a comprehensive solution for video editing, from basic trimming and cropping to advanced editing features.
How is Video Compression Critical in Different Industries / Segments?
Edtech
With learners flocking to platforms that provide flexible learning from anywhere, at any time, eLearning and EdTech industries are growing progressively as course creators and educational platforms are leveraging technology to improve learning processes.
Video compression plays a key role in ensuring compatibility across devices, providing high-quality experiences, and widening reach. It eliminates video-centric streaming challenges that disrupt the entire workflow due to ineffective content preparation, encoding, and player incompatibility—and hence is paramount for Edtech sectors.
OTT
For OTT platforms, video compression is an indispensable element of video production. It ensures maximum ROI by boosting your content compatibility with different devices and platforms.
With video compression, you can strive to publish videos that have high-quality visuals and audio to grab your audience's attention—while maintaining an economical budget.
So, whether you build your own video compressor or leverage existing software, make sure you compress your videos to match different devices and platforms—and remain at par with your competitors.
Social media
When creating content for social media, it is key that people are able to share and download what you post. To facilitate this, your video files must be smaller in size and have a decent resolution for your audience to be able to stream buffer-free videos that load quickly and don't require significant bandwidth.
Video compression helps you upload videos that are easily downloadable and shareable. In addition to this, since social media sites compress videos by default to ensure your posts fit their frame standards, it is a good idea to optimize your videos to the specific resolution aspects of social media platforms to retain video quality.
Conclusion
Compressing video files on Mac, Windows, Android, or iOS is a simple enough process. The focus should be on retaining video quality post-compression—which can be achieved by using a robust video compressor that caters to your needs.
FAQs
How do I reduce video file size?
There are a number of ways to reduce the video file size:
By changing the resolution
By removing unwanted data (audio or select portions of the video)
Reducing the bitrate
Changing the video format
You may use any good compression software to perform video compression.
2. Does compression reduce video quality?
Yes, compression can downgrade video quality depending on how it is done. Lossy compression will inevitably result in data loss but will produce smaller file sizes. However, if you use video encoding, you can compress your video footage (shrink gigabytes to megabytes) without affecting quality.
3. What is the best way to compress a video?
The best way to compress a video is by using video compression software. All you have to do is:
Launch your compressor app
Choose and upload your file (or drag & drop)
Select your desired compression options and start compress
Download and share the compressed file.
4. Which video format has the best quality?
Microsoft's AVI offers the best video quality when compared to the likes of MOV and WMV. However, AVI files tend to be quite large.