MKV and MP4 are two of the more popular video formats. As a result, there is often confusion as to which of the formats is better and which should be preferred when. The thing is that the answer to this question is not as simple as you'd have liked. To truly understand the differences between the two, it is crucial to understand what each of these formats offers and how they differ from one another. To help you understand that, let's use this article to talk about MKV and MP4 file formats and how they differ!
What is MKV?
MKV, also known as Matroska Video Files, is one of the most basic video formats, and the lead developers of Matroska originated it. It is an open-source video format and allows for all kinds of different audio-visual content to be packed inside the format. As a result, an MKV file can hole different audio tracks, video tracks, and subtitle files - thereby facilitating smoother sharing and distribution of these files. The name is derived from the famous Russian Matroska dolls wherein different-sized dolls were inserted, one inside the other.
A single MKV file is powerful enough to host a movie with audio in multiple languages and respective subtitles for the user to pick the relevant audio and subtitle format while viewing the video. This feature makes the MKV format extremely useful.
Schedule a Demo with Our Video Expert!
Discover how Gumlet can help you build a cutting-edge video streaming infrastructure.
What is MP4?
MP4 was created by the Moving Pictures Expert Group as their standard video coding format and was released back in 1998. Currently, there are over two dozen different MPEGs. This is one of the most commonly used container file formats and is used for Dynamic Adaptive Streaming over HTTP, and is also compatible with Apple's HLS streaming.
The MP4 format is based on the MPEG-4 Part 12, which is based on the QuickTime File Format. Like MKV, the MP4 format, too, supports an array of codecs - most commonly H.265 or H.264 for video and AAC for audio. Because of the sheer versatility in its application, MP4 has widely grown to be one of the most utilized video containers capable of delivering both MPEG-DASH and HLS - two top streaming protocols.
Difference Between MKV vs MP4
With the basics of MKV and MP4 in place, let's now move toward some important points of difference between the two. Here is a comparison table that gives you a quick overview of some important points of difference between MKV and MP4. Post that, we will talk about the two formats and how they differ based on different important parameters.
Comparison Table
| Format | MKV | MP4 |
| --- | --- | --- |
| Support | Needs a player to support it - like VLC or WMP. | Native support for all browsers. |
| Streaming | Slightly difficult to use this format for streaming. | Good for streaming as it supports both MPEG-DASH as well as HLS. |
| License | Unsupported | Required for DRM. |
| DVDs/Blu-Ray | Popular | Not-popular |
| Released for public use | 2002 | 2003 |
Video Quality
MKV vs. MP4 - which video format is responsible for producing better-quality videos? Well, this is an obvious question, but it does not have any answer that is set in stone, to be honest. The final quality of the file that you receive depends entirely on the codecs that you are using in your container and not the container format itself. So, while both MKV and MP4 are containers, the final quality that they will produce will depend on the codecs that you are packing with each format. So, if you use both MKV and MP4 with the same audio and video codecs, you will find the quality of the two to be similar.
File Size
Again, when it comes to comparing MKV vs. MP4 based on their file size, it should be noted that these two are just container formats, and the final file size is determined by the video bitrate and the codecs being used to encode audio and video. If you use the same codecs and the same bitrate, you will find that the file sizes of MKV and MP4 are both comparable. However, MKV is generally larger than MP4 as it supports additional features, subtitle files, multiple language audio support, and so on. However, if you have an MKV video file that is smaller in size than MP4 despite being of higher resolution, it can be because of more advanced codecs used with MKV as compared to MP4.
Video and Audio Codecs Supported
As we mentioned earlier, the MKV format can store unlimited multimedia content, ranging from subtitles, audio, videos, and more. As a result of this, the MKV format is commonly used for TV shows and movies. It supports all audio-visual encoding formats, some of which even MP4 doesn't support, which makes it a good format for streaming movies and so on.
Both MKV and MP4 can be encoded using the HEVC video codec supporting UHD resolution. However, one prime difference between MKV and MP4 is that MKV supports FLAC, whereas MP4 doesn't. This makes MKV a much better format for lossless digital audio compression.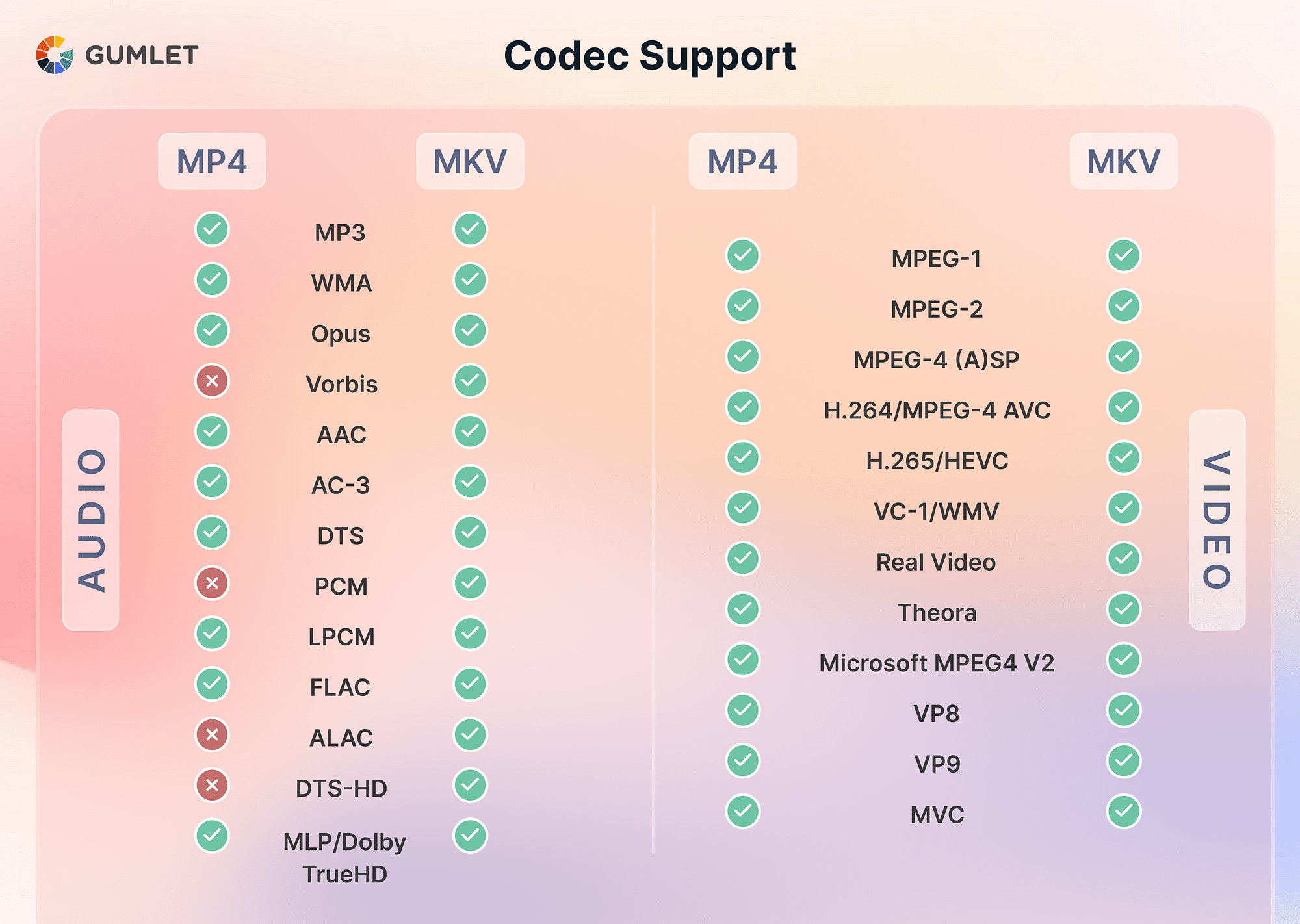 Platforms Compatibility
MKV format supports multiple video/audio language tracks as well as subtitle files, making it an ideal format for HD movies/TV shows, as well as for streaming things in a foreign language. MKV is compatible with most mainstream media players and video editing tools like VLC, KMPlayer, Adobe PremierPro, and so on.
Compared with MKV, the MP4 format has much wider compatibility and can run on literally any operating system or device. So, in terms of platform compatibility, MP4 wins over MKV, hands down.
Advantages and Disadvantages of MP4 and MKV
Now that we understand how the two formats - MKV and MP4 - differ and work individually, it is time to answer the obvious question - which of the two formats is better? Again, it should be noted that there is no hard and fast answer to that question, and the final call is always yours to make. With that said, you can always use information and knowledge to help you make a better, more informed decision. To help you with that, let us talk a bit about both the advantages and disadvantages of MP4 as well as MKV so that you have a clearer picture of both these formats and are in a better position to decide.
Advantages of MKV
The key benefits of MKV over MP4 include:
Open source: Because of this, the developers have a chance to optimize the format and provide better compatibility for novel systems.
Active developer community: This is a much-needed advantage and is very useful for helping you navigate your way in the world of MKV.
Adaption: There are sufficient compatible devices, OSes, and platforms to make MKV work. And even if some platforms aren't compatible, it is always possible to launch an update that would tackle that specific platform/device and eliminate the error.
Support: MKV supports elaborate menus like those found in Blue-Rays and DVDs. It even supports different subtitle files that can be used in different languages.
Higher quality: This goes without saying that MKV quality is generally better than MP4. The result of this is that it is often used in projections to achieve the highest possible resolutions.
Disadvantages of MKV
The main source of concern when working with the MKV video format is that it isn't as widely supported and compatible with all the different devices or platforms. So, it needs to be constantly updated if it fails on any device.
Apart from this, MKV might also be disadvantageous in terms of audio quality, especially if it is recorded at a low bitrate or using subpar equipment.
Advantages of MP4
Some of the key benefits of MP4 include:
It is the latest video codec, and so it comes with all sorts of support and compatibility needed for today's world.
MP4 offers improved compression than its predecessor, thereby producing smaller files without sacrificing the quality.
MP4 supports video streaming, so it is an ideal format for playing videos over the internet.
It is backward compatible with its predecessor formats. So, files encoded in MP4 can be played on devices that do not support MP4 but support its predecessors.
All of these benefits make the MP4 format an extremely useful option for both audio as well as video, and it can be easily played on PCs as well as handheld devices without any streaming or buffering problems.
Disadvantages of MP4
Like any other format, MP4, too, comes with its share of drawbacks. Some of the disadvantages to keep in mind include:
MP4 is inherently a lossy compression format, which means that the file information is essentially lost during each compression.
Illegally distributing MP4 is easy by removing metadata.
MP4 files generally use a lot of computing power since they contain video, audio, as well as subtitle data.
Which Out of MKV vs. MP4 is Better for Video Streaming?
MP4 is generally better for video streaming because it offers more efficient compression, better compatibility with most devices, and easier streaming from multiple sources compared to MKV. MP4 is a more widely supported format, and the files are usually much smaller in size than MKV files, making them easier to stream. MP4 also has more significant support for DRM (Digital Rights Management), so you can use it to protect your content from unauthorized access. Finally, MP4 is easier to use for streaming platforms because most streaming services support it.
For live streaming also, MP4 is generally a better choice as it is more widely supported and provides better compression. However, MKV can provide a higher quality video and support more features, such as multiple audio tracks and subtitles.
MP4 is a popular format due to its wide compatibility and high levels of compressions. However, this format is not really preferred if you plan to avoid high loading time or are looking for better copyright protection measures.
MKV, on the other hand, is an open-source format, which allows it to bring a lot more versatility and flexibility to the table. In terms of quality, we can say that MKV is superior to MP4, but it should be noted that MKV struggles on the compatibility front and is not easily compatible with most video players.
Conclusion
Clearly, there is no clear winner between the two, and the answer to the question - "Which is better out of MKV and MP4" will depend heavily on what you plan on doing with your video formats. We hope this article helped you draw out the key differences between the two formats and resolved any confusion that you might have had regarding the same!
FAQs
Is MKV file larger than MP4?
It depends on the video file size and quality, but MKV files generally tend to be larger than MP4 files due to the additional features in the metadata they contain.
2. Does MKV to MP4 reduce quality?
No, MKV to MP4 conversion does not reduce quality. The quality of the file depends on the resolution and bitrate of the original file. If the original file is high quality, then the converted file will also be high quality.
3. Is MKV or MP4 better for Youtube?
MP4 is the preferred video format for YouTube as it is the most compatible format. YouTube does not support MKV files, so if you want to upload a video to YouTube, you should convert it to MP4 first.
4. Is an MKV file lossless?
No, MKV files are not lossless. MKV files are a container format that can support various audio and video codecs. Lossless audio formats, such as FLAC or ALAC, can be stored in an MKV file, but they are not the same.