What is DRM?
Digital Rights Management (DRM) is a technique to secure digital content through systematic authorization solutions that provide content distributors greater control over copyrighted material.
To put it simply, DRM ensures encrypted storage and transmission of video content, so it can only be accessed by authorized devices and users.
Schedule a Demo with Our Video Expert!
Discover how Gumlet can help you build a cutting-edge video streaming infrastructure.
What does "DRM Protected" mean?
The phrase "DRM protected content" indicates that the digital content you publish follows a set of authorization rules that dictate how it will be used and managed. It essentially refers to content that is protected by DRM solutions which prevent illicit downloads and duplications.
Depending on your requirements, DRM protection solutions can have varying levels of complexity. Leading content distributors package video content with the help of multiple DRM solutions to ensure best-in-class security and uninterrupted device compatibility.
DRM also monitors how many times a certain video is being accessed and which devices it is being viewed on—this helps ensure systematic use of copyrighted material.
For instance, if a video player receives a playback request from a device, it will ask the user for a licensed, authorized key to determine if the device is authorized to access that particular video or platform. If the authorization process is successful, the user will receive a decryption key that will unlock the video for playback.
How does DRM work?
DRM basically relies on codes to restrict content from being copied or limit the number of devices that can access it.
It follows a two-step workflow to protect content.
Encryption: DRM solutions use encryption mechanisms to protect content and ensure it can only be accessed by authorized users.
Authentication: Authentication software acts as a security tool between the decryption key and the user—restricting access to only those people who have the proper permissions to access it.
Both the encryption and authentication systems assemble your digital media in a file rendering—making it unreadable by anyone who can't present an unlocking key.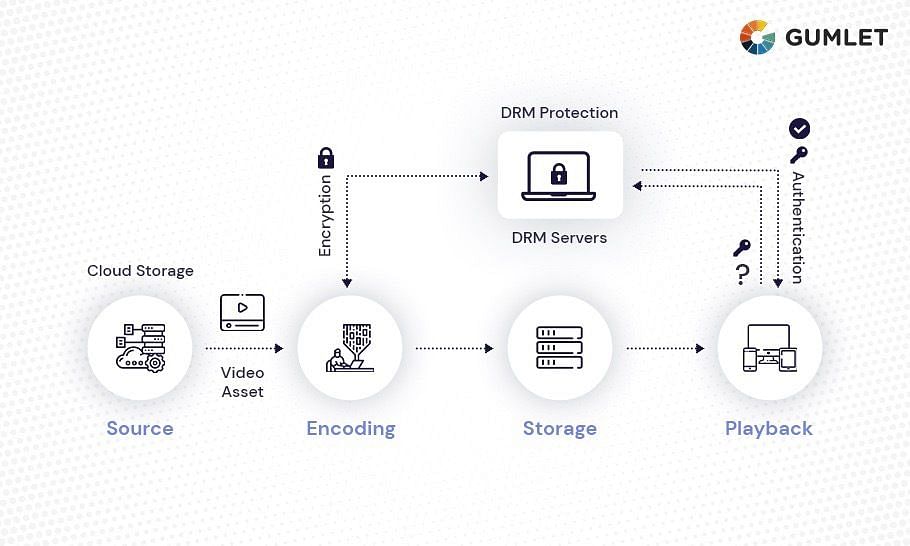 Why do you need to have Video DRM Protection for your content?
DRM is a cutting-edge technology that helps prevent piracy, unauthorized access, and illegal distribution and modification of premium content on video platforms.
DRM protection is becoming a standard practice amongst content creators today, considering the susceptibility of digital media to peer-to-peer file exchanges, unauthorized distribution on torrent sites, and piracy. Lack of licensing and authentication technologies can lead to a significant loss in revenue for businesses.
With DRM solutions, copyright holders can not only uphold their rights but also prevent cybersecurity risks that are rather common these days. You can effectively secure customer data, remain compliant with security norms, and in the process boost operational efficiency, and prevent unnecessary downtime.
Top 5 Video DRM for your content
There is a host of DRM available to content producers today, including the widely used systems like Google's Widevine and Apple's Fairplay.
Here's looking at the top 5 video DRM systems you can consider:
Gumlet
Gumlet is a cutting-edge DRM protection solution that helps content producers protect their video streams with top-grade encryption setups like Apple Fairplay DRM and Google's Widevine DRM. Given its support for both iOS and Android operating systems, Gumlet is a powerful digital rights management software that guarantees universal playback of content across the majority of browsers while ensuring top-level security and user experience.
Brightcove
Brightcove is another solution that aims to deliver DRM-protected content to a broad range of platforms and browsers. Some of these include MPEG-DASH (using CENC DRMs) and HLS (using FairPlay).
JW Player
JW Player allows distributors to prioritize engaging content experiences while their water-tight DRM policies ensure industry-standard protection of their digital content. It is a quick and easy-to-use software that relies on DRM media content key generation and licensing systems to ensure seamless content playback on different devices.
Bitmovin
Bitmovin is an intelligent DRM solution provider that is compatible with a wide range of browsers. The Bitmovin Adaptive Streaming HTML5 Player allows content distributors to easily configure and apply DRM solutions to encode their content for high-level security and low-level latency.
VdoCipher
VdoCipher is touted to be a "Hollywood Grade" DRM solution that provides end-to-end protection to your copyrighted material. It is a quick & intuitive multi-DRM protection scheme that restricts hackers from accessing your content and prevents piracy.
With multiple DRM video encryption setups, support for Widevine and FairPlay streaming, backend licensing, and more—VdoCipher is one of the most effective DRM for Android and iOS video platforms.
Conclusion
As content owners are publishing more and more copyrighted content online, DRM has become a mandatory practice among major video streaming platforms to protect video content transmission.
With reliable DRM solutions, content producers can leverage appropriate security systems to control and manage how users access their material. It helps prevent unauthorized content distribution and duplication with air-tight encryption and authentication systems—and thus protects a copyright holder's rights online.
If you are looking for an effective DRM application, prioritize solutions that leverage a combination of licensing and encryption technologies to protect your video content from illegal distribution.
Gumlet supports the most widely used Widevine DRM and Fairplay DRM to ensure universal playback of content across different devices and platforms.
FAQs
1. What is DRM licensing?
DRM licensing is a type of content protection used to control the use of digital content and devices after sale.
2. What are the benefits of DRM?
DRM's benefits are: Protection of Intellectual property, Piracy Prevention, Improved Control over digital content and Increased Revenue.
3. What is an example of DRM?
Apple's FairPlay is an example of DRM, which protects music, movies, and other content purchased from the iTunes Store.
4. How is DRM implemented?
DRM is implemented by encrypting the content with a unique key and restricting access to it with a license. This license is stored on the user's device and limits the user's access to the content. The content is then decrypted with the key and can only be accessed with the correct license. This ensures that the content is only available to those with the correct license.