What is Video CMS?
A video content management system (CMS) is a centralized, purpose-built application that allows organizations to efficiently host, manage, and deliver video content online.
A video CMS doesn't require prior programming knowledge on the part of the user to build a scalable video streaming ecosystem. With your entire video archive at one centralized location, you can seamlessly send training tutorials, run ads, live stream, participate in video collaborations, internal messaging, and so on.
Schedule a Demo with Our Video Expert!
Discover how Gumlet can help you build a cutting-edge video streaming infrastructure.
Why Video CMS is Important for Your Business
With video content dominating all internet traffic (making up 80%, to be precise), companies are increasingly leveraging videos to engage with their audience. However, there needs to be an efficient way to store and access video assets so organizations can seamlessly distribute video to their viewers.
Video content management systems help with exactly that.
They provide a central location for storing, categorizing, hosting, and accessing video content which in turn improves the searchability of the digital repository. A video CMS facilitates disruption-free streaming along with ensuring top-grade security and protection.
Here are the main benefits of a Video CMS
Storage
One of the primary advantages of a video CMS is that it ensures efficient storage of video files that tend to be larger in size than other media types. Where JPEG images generally take up about 15 kilobytes of space, videos—even if they are compressed—can be 1000× greater in size. Most content management systems aren't designed to handle video files. For organizations looking to send out long training videos or hold live meetings, this is a major disadvantage.
Video CMSs with their ability to host a centralized repository of video files ensure hassle-free uploading and can be scaled to fit your expansion needs.
A video CMS also significantly improves searchability of video content—allowing users and content distributors to search their digital libraries using metadata like keywords, title, etc.
Privacy and security
For companies looking to host private video content, informational videos, etc, a video CMS is a far more protected and secure solution than a public platform like YouTube. It requires proper authentication and an encrypted connection between end-users and the hosting server.
A video content management system also allows you to restrict access to users based on their clearance levels.
Video Analytics
The best video CMS platforms rely on artificial intelligence (AI) to generate analytics pertaining to video performance so organizations can modify their content strategy and make informed decisions. Video analytics is used to track video content's performance. The uninterrupted visibility into the video CMS interface also provides comprehensive viewer data—such as the number of people who viewed the video, how long they spent watching it, and where they tend to abandon it.
Depending on your requirements, you can opt for advanced analytical features
Easy Integration
If you are currently using a content management setup, you can easily link your video CMS and move your content easily between the two systems. In addition to this, new-age video CMS is also compatible with scores of third-party plugins or apps that you currently leverage to manage your content better.
Buffer-free Streaming
An important advantage of video CMSs is that they allow streaming across a wide range of devices—mobile, laptop, and tablet—while ensuring there are no needless disruptions. This helps businesses enhance their reach and target internet traffic on all platforms.
A video content management system depends on a process called transcoding to convert video files to formats different devices are compatible with. This helps reduce buffering and optimize streaming quality and experience based on the strength of your internet connection.
Key features of Video CMS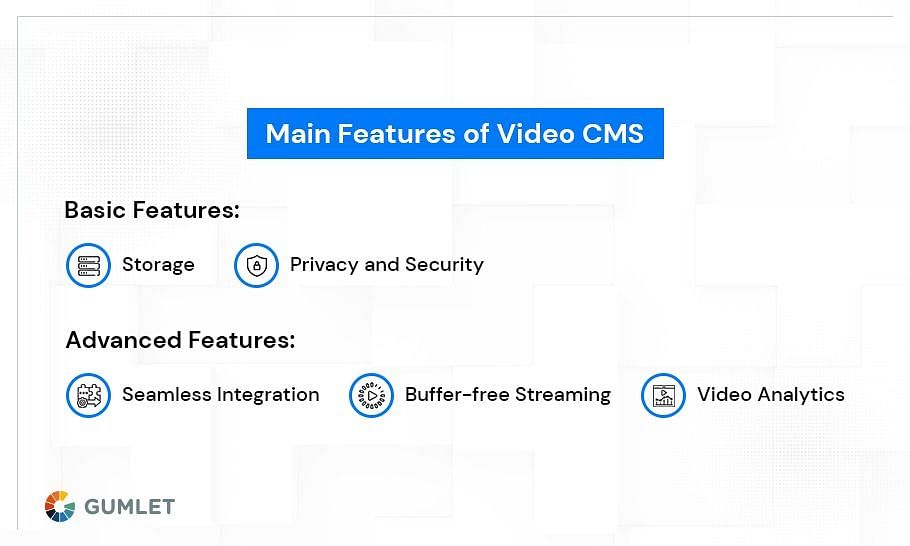 Encoding and Transcoding
Not every viewer has favorable network conditions or common screens to stream video content seamlessly. They access content via different devices and have varying speeds of the internet—which requires video encoding and transcoding to ensure playback compatibility with different streaming platforms.
Modern encoding and transcoding processes rely on adaptive bitrate streaming to convert content into various reliable formats—and streaming platforms like Gumlet help make this possible. Their efficient video optimization techniques help deliver high-quality videos at low bitrates. Gumlet also eliminates buffering issues and reduces streaming costs by up to 46%!
Live streaming and video-on-demand
An online content management system allows you to deliver video on demand (VOD) as well as send live streams. Modern streaming platforms also help you quickly switch from live-to-VOD streaming to unlock new channels of monetization.
CDN
The purpose of a video CDN is to streamline video stream delivery and maximize viewership globally. It relies on geographically distributed servers which reduce the burden of requests on origin servers—thereby, fulfilling them with greater efficiency and minimized buffering time..
Gumlet's geographically-dispersed infrastructure uses multi CDN rerouting to ensure 99% uptime.
Video Protection - DRM
A video CMS relies on strong encryption and authentication measures to deliver top-level security and protection. In addition to this, it supports the Digital Rights Management (DRM) technology that helps prevent piracy, data breaches, and unauthorized access of digital content.
For content owners and distributors, the ability to protect digital content and limit user access provides them greater control on their video assets.
Video insights
Video analytics and insights are key for assessing video performance and bolstering the quality of experience (QoE). The visibility across the entire delivery workflow helps businesses take informed, data-driven decisions and improve their content strategy.
Conclusion
If you are looking to opt for Video CMS software for your enterprise, Gumlet is a highly-reliable, fully-managed solution to help you automate tour video publishing pipelines. It helps you manage and securely deliver video content on the global platform with the help of an intuitive video CMS.
Gumlet ensures secure video playbacks using signed URLs and eliminates latency and re-buffering. With real-time insight into your video delivery workflow, streaming vendors can track and improve video engagement across different platforms.
FAQs
1. Is YouTube a CMS?
No, YouTube is not a CMS.
2. What is an example of a CMS?
Ghost is a popular example of a CMS.
3. What is CMS in the OTT platform?
CMS for OTT is a software application that manages and publishes content on an OTT platform. It is used to store, organize, and update content such as videos and other multimedia elements and also provides tools for managing user access and workflow.
4. What are the two main parts of CMS?
A content management system consists of two main parts: a content management application (CMA) and a content delivery application (CDA).