Videos have grown to become the most preferred communication channel - especially after the COVID outbreak. Whether you look at remote office calls, knowledge sharing, or just entertainment - the video format has successfully taken over previously-used methods, and how!
However, alongside this rapid adoption of videos, there has also been an increase in the underlying tech that makes it possible to stream and share videos. That has made these videos much more than simple data points. Now, businesses can extract important information by analyzing their video content and the audience's engagement with it, and that is where Video Analytics comes into the picture.
What is Video Analytics?
In essence, videos on your websites or web pages are just pieces of code embedded into HTML. So, the tools that let you analyze your web performance also help with video analytics in a way. For example, you can use tools like Google Analytics to track the population of your audience that watches your videos and makes a purchase after that. This way, you'll get some insights into the effectiveness of your video content. But the good thing is that video analytics doesn't stop at Google Analytics. It's just the beginning. Beyond that, numerous other tools and platforms provide much more actionable and detailed insights and statistics for your videos.
Schedule a Demo with Our Video Expert!
Discover how Gumlet can help you build a cutting-edge video streaming infrastructure.
Video analytics can then be understood as the process of collecting all the data associated with your video content and its viewers and analyzing the trends with respect to their engagement. Goes without saying - this unearths a lot of underlying patterns that can be easily identified and used for creating better user engagement.
How Video Analytics is different from Intelligent Video Analytics?
Intelligent video analytics utilizes advanced techniques such as object detection, face recognition, object tracking, and so on, in order to automatically identify temporal and spatial events from a video. In essence, intelligent video analytics gives you a chance to find discrepancies or inconsistencies in your video clips, so that you can find outliers and take the necessary action. For these reasons and more, intelligent video analytics is highly used in use cases like surveillance, smart cities, healthcare, and more.
Video analytics, on the other hand, refers to simply video content analysis. The goal of video analytics, in essence, is to help you understand how your viewers are interacting and engaging with your video content using relevant metrics. Some of the important metrics that are often measured and benchmarked when it comes to video analytics include video performance tracking, and engagement metrics like views, shares, and so on.
Key features of the video analytics platform
Video analytics platforms come loaded with a number of tools and features. However, there are some primary features that you must ensure that your video analytics platform has for the best results. Here are some key features you must look out for: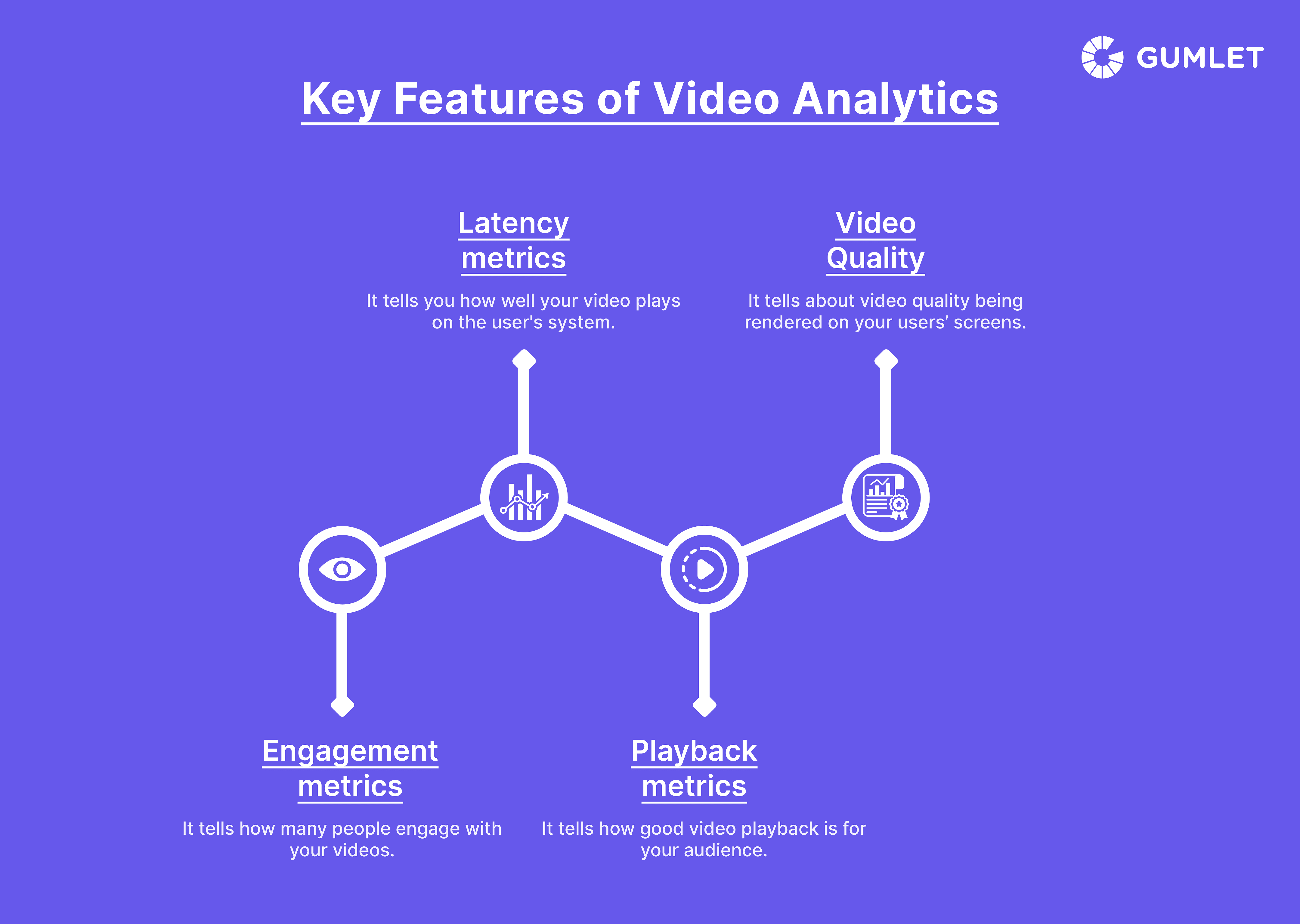 Engagement metrics
Your video engagement metrics include all the comments, likes, shares, and minutes spent by users on watching the video. Engagement metrics give you a good idea of not only the number of people who are engaging with your videos but also the general sentiment of your audience - as you get to analyze all the user comments, too. This is a very basic feature, and any video analytics platform that you decide for your business must have a way to accurately calculate engagement metrics. Some of the most used engagement metrics include:
Total views
Unique users
Playing time
Playback completed by users
Playback completed by views
Maximum concurrent users
Latency metrics (Quality of Service)
While engagement metrics give you an idea of your audience's engagement with your content and the quality of that engagement, latency metrics give you feedback on the quality of your video service. To do this, latency metrics include bitrate, throughput, latency, jitter, and packet loss - all of which are a direct indication of how well your video is playing on your user's system. This information gives you a chance to improve your service, which directly results in better engagement, and automatically improves your engagement metrics, too. Latency metrics include:
Player startup time
Video startup time
Seek latency (the time elapsed before the video plays after the user has sought a new location in the video.)
Playback metrics
Unlike the previous two metrics, this doesn't give information about your audience's engagement, nor does it tell you anything about your quality of service. What playback metrics help you understand is how good video playback is, on different measures, for your audience. This information, too, is extremely handy when coming up with the next video ideas. Some important playback metrics include:
Re-buffer percentage (= buffering time*100/total view time)
Re-buffer duration (= total amount of time users spent waiting for the video to buffer)
Re-buffer count (= number of re-buffering events that happened during all video views)
Re-buffer frequency (= re-buffer count/total number of views)
Playback exited before startup (= the number of viewers who exited the video soon after clicking the play button. If this number is high, it means the buffer time for your viewers is very high and needs to be managed)
Playback failed (= percentage of users that experienced playback failure while watching the video).
Video Quality
Video quality metrics help you get an idea of the quality of the video being rendered on your users' screens. Your videos require downscaling and upscaling to fit different screens, and these metrics ensure that any scaling does not hamper your video quality in any manner whatsoever. For that, the following metrics are useful:
Upscaling
Bandwidth wastage
Average bitrate
Video Breakdown Tracked for More In-depth Analysis.
Now that we've gone through the important features of any video analytics platform, it's time to look at useful video insights. Apart from just the metrics mentioned above, you can also break down your video viewers based on a number of parameters to perform an in-depth analysis of your audience demographics and plan your next steps accordingly. Some of the important breakdowns that can be easily tracked using video analytics include:
Device
Video analytics platforms can help you with the following information with regard to your audience's playback device:
Browser
Operating System
OS Version
Device Category (Mobile, Tablet, etc.)
Device Manufacturer
Device Name
Device Width
Device Height
Touchscreen (whether the device has a touchscreen or not)
Geography
In terms of the geography of your audience, you can dive deeper and perform an in-depth analysis of the following areas:
Continent
Country
City
Region
Player
You can also know about the players being used to view your video content. This information would include:
Software
Version
Height (measures player height during playback)
Width (measures player width during playback)
Language
Page URL (page on which the player is embedded)
Network
Video analytics platforms also provide you with the following network-related important information about your videos' audiences:
ASN (network provider name)
Connection Type
Connection Speed
User
The video analytics tool that you use should have the ability to provide insights into your users' details, which can help you create more personalized and relevant content going ahead. This can include:
ID
Email
Username
Phone
Country
City
State
Zip code
Video
Lastly, you get the information about the video your users are watching in a completely atomized manner. This includes:
ID
Title
URL
Hostname
Format
Variant
Producer
Series
Language
Encoding
Content-Type

Custom Data
The video analytics tool should have the ability to help you add and track custom data points depending on your requirements.
How to attract more audience to your Video Content?
To attract more audience to your video content, you'll need to first analyze how your current videos perform and your audience's sentiments towards that. For that, all the metrics and features we have discussed above can come in extremely handy. Once you have an idea of all that, the next step is to identify gaps in your video content strategy and find out what you're missing out on. Maybe your audience requires more explainer videos than product videos, or maybe vice-versa. Whatever it is, the idea should be to understand what is needed and present just that.
You can explore various types of video content and experiment with them to understand which works best for your audience's engagement. Some of the video content types include:
Explainer videos
Entertainment videos
Brand videos
Demo videos
Webinar videos
How-to videos
Personalized videos
FAQ videos, and more.
Google Analytics Video Tracking
Google Analytics is an easy-to-use and free way to track website traffic, visitor engagement, customer demographics, and more. By using Google Analytics, you can gain valuable insights into your audience's habits and preferences.
You can use Google Analytics to see which pages are most popular, how many visitors come from mobile devices, which keywords are driving the most traffic to your site, etc. In addition to tracking website traffic, Google Analytics can also be used to track visitor engagement such as time on site, bounce rate, and exit rate. Knowing how long people spend on your site and how they interact with it can help you improve the user experience and better understand what works and what needs improvement.
However, being free for use, and primarily an introductory tool, Google Analytics does not help you if you want to dive deeper into your video analytics and uncover some underlying patterns. For that, you need better insights into your data points.
Google Analytics vs. Gumlet Analytics

One of the key differences between Google Analytics and Gumlet Analytics is that to derive any meaningful information from your video data from Google Analytics, you will need to put in a lot of technical effort. You will need to track each and every user interaction with your video players and set up tag manager events for each video accordingly. With Gumlet, you get this ability out-of-the-box, without having to muddle with the data much. All you need is a simple script, and that will get your job done.
Further, the visualizations and dashboards provided by Gumlet Analytics are far more sophisticated and straightforward - both in terms of creating as well as use. Google Analytics' dashboards, on the other hand, are quite non-intuitive and require a lot of effort to get started with. In essence, while Google Analytics was primarily built to track website-traffic-related metrics, Gumlet SDK is built to track insights for video usage on an application or a website, straight out of the box.
This core difference between the reason for the existence of these two platforms is what sets them apart, too. And if you are someone who wants to get meaningful insights into your video consumption from your website or application, Gumlet comes with all the required features to get your job done.
Top 5 Video Analytics Platforms
Keeping all the discussions so far in mind, here's a list of the five best video analytics platforms that provide all the important features, tools, and breakdowns for you to really understand your video content and its overall performance on many different fronts.
Gumlet Analytics
Gumlet Analytics helps you collect important insights from video playbacks. You get detailed analytics for engagement, playback, quality, and performance of your videos, which in turn helps you to optimize videos. Further, the tool easily integrates with different SDKs so that you can get on board and start quickly!
Mux
Mux is a developer video platform that tries to remove difficulties in creating live and on-demand videos. The API-only platform lets you make engaging video content and also provides analytics to help you gather the required information.
Conviva
Conviva has continuously defined the standards for cross-screen, real-time, end-to-end streaming media intelligence. The platform enables you to understand and act on different insights for each of your streams across all the different screens.
JW Player
JW Player gives you basic analytics to gauge your video content's performance and tweak your efforts for better results.
Flowplayer
Flowplayer comes with a centralized dashboard that informs you about all important metrics about your video content. This lets you gain a better understanding and a fairer idea of your content, usage, and even ads - both on a macro and micro level.
In Conclusion
Video insights are crucial for improving your video content strategy and ensuring that it reaches a greater number of people. Luckily for you, various video analytics platforms come with the features you might need. The onus is on you to really understand your business needs, especially when it comes to your video content, and select a video analytics platform that provides the best for your business!
FAQs
1. Where Is Video Analytics Used?
Video analytics is used in various industries, like retail, banking, healthcare, government, and transportation. Primarily, Video analytics is used for marketing and advertising purposes. It is often used to track viewer engagement and optimize video content delivery.
2. What Is Video Analytics In Ai?
AI video analytics analyzes digital video content to extract useful information and insights. This includes recognizing and tracking objects in video, extracting audio and text from the video, and understanding the context of the video. It is used for various purposes, such as security, surveillance, etc. AI video analytics is also used to automate facial recognition and object detection processes.
3. How To Check Youtube Video Analytics?
Sign in to YouTube Studio.
On the left menu, select Analytics.
You can view your Channel Analytics here. You can view your views, watch time, subscribers, and total revenue.
4. How to track video views in google analytics?
Log into your Google Analytics account and create a goal to track video views. Once you have created the goal, you need to add an event tracking code to your video pages. This code will track when a user views the video and trigger the goal. Once the event tracking code is installed, you should see the goal triggered in real-time in your Google Analytics dashboard.