The world is seeing an explosion in data usage since all of our lives have gone online. Transmitting those data requires more power. Since more than 80% of our energy still comes from non-renewable energy sources, emissions related to the power sector are accelerating. The burning of fossil fuels generates enormous amounts of greenhouse gases which are changing the earth's environment in a harmful manner.
What is Carbon Footprint?
Total greenhouse gases produced by certain activity, directly or indirectly, is the carbon footprint of that activity. Carbon footprints are generally measured in equivalent tons of CO2 since carbon dioxide is the dominant heat-trapping gas among greenhouse gases. Different greenhouse gases have different global warming potentials. All of them are converted to the global warming potential of carbon dioxide, which is known as CO2 equivalent (CO2e).
Why is it important to calculate your carbon footprint?
There are 4.66 billion active internet users worldwide. The carbon footprint of our gadgets, the Internet, and the system supporting them, accounts for 3.7% of global greenhouse gas emissions. This is similar to the carbon footprint of the entire airline industry. These emissions are predicted to be doubled by 2050. Warmer climate can cause sea level rise, ocean warming, wildfires, extreme rain events, droughts, etc. The Internet is lending its hand to the already worsening climate problem. In light of the recently published IPCC report, realizing urgency for climate action is the need of the hour. Firstly, to decrease our carbon footprint, we need to calculate the greenhouse gas emissions of our activities. We can't manage things that we don't measure. Once you know the different sources of greenhouse gas emissions of your business, it is easier to improve the system to reduce your carbon footprint.
How to calculate your website's carbon footprint?
We have considered three components for calculating a website's carbon footprint; processing, storage, and transmission. Use the following equation to estimate the amount of greenhouse gases a website produces. This estimate includes the carbon footprint of the entire life of servers, its energy use, and emissions related to transmission. The following equations assume that the servers run on non-renewable energy sources and are cloud servers.


If your servers are cloud-based and use 100% green energy, then use the following equation:
To know the source of electricity of your servers, check this out.
Example:
If your servers are on google cloud and you fall under the small category with 30,000 monthly visitors, then your website's carbon footprint is:
Total carbon footprint of the website = Carbon footprint of servers + Carbon                                                                                    footprint of transmissions
Hence,
Total carbon footprint of your website = 80 + 30,000 * 0.0064
                                                                     = 272   kg co2/month **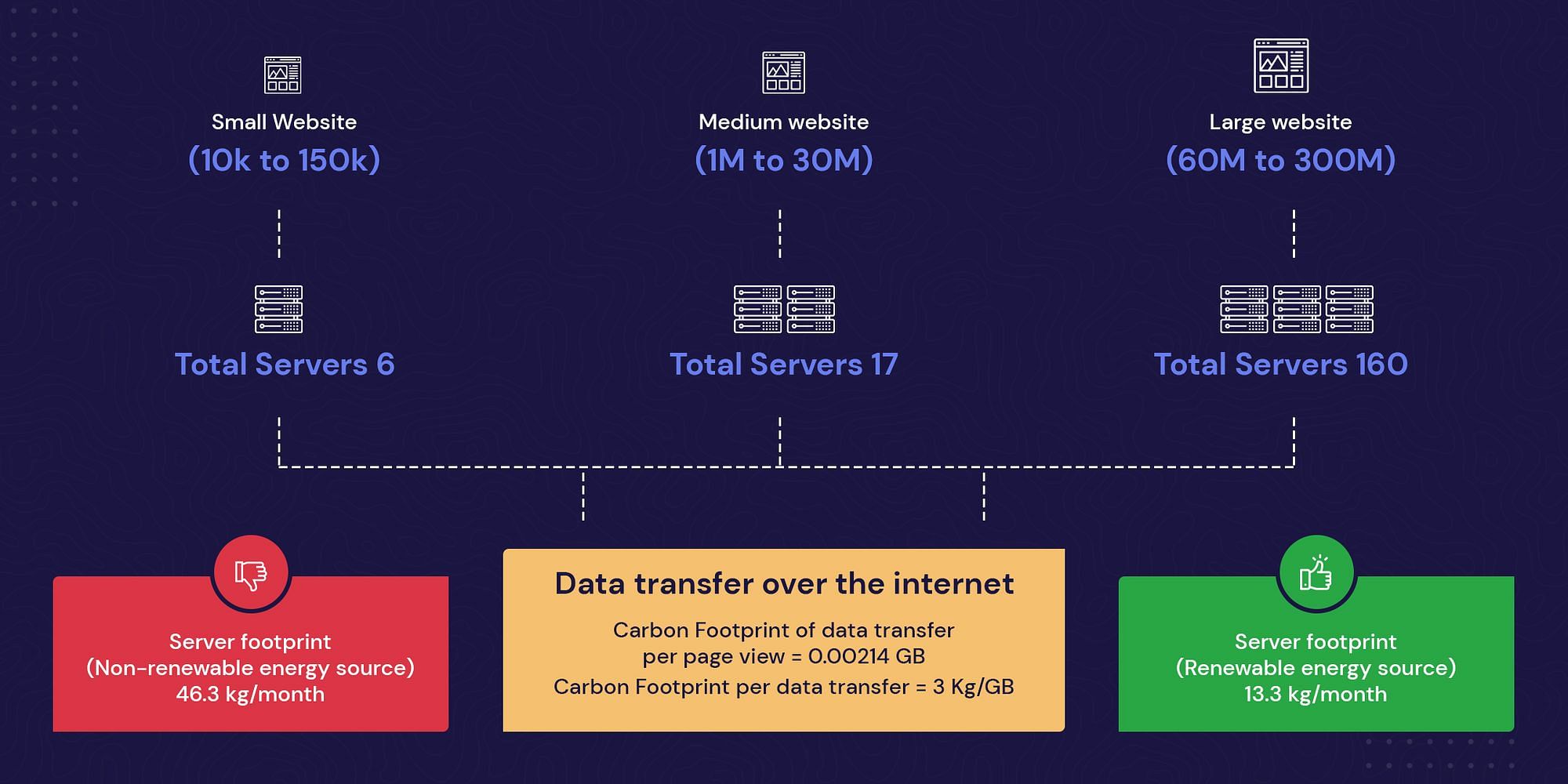 What can you do?
Networks use more than 20% of the total electricity consumption of the IT industry. This ratio will only increase in the future as many applications and websites gobble up the bandwidth. While efforts are being made to make servers more efficient and use renewable energy to run them, the responsibility of making websites greener lies directly on the website owners. The carbon footprint of a website depends on different variables like the number of pages, the number of images and videos the website contains, website traffic, etc.
There are multiple ways to lower the carbon footprint of a website. Server optimization, changes in the network system, and frontend are some areas in which you can reduce a website's carbon footprint. Check out this blog for more details. This article will focus on image optimization to decrease a website's greenhouse gas emissions generated during transmission. On most websites, images are almost 65% of the page weight. The more images you use and the larger those image files, the more data needs to be transferred, and the more energy is used. Hence, optimal compressed images contribute less to the website's carbon footprint. This is where Gumlet comes into the picture.
How does Gumlet fit in?
Gumlet is an image and video optimization tool that effectively reduces the size of images and videos on your website. 30% average reduction in the size of your images can lower your website's carbon footprint. Gumlet can save around 3Kg of greenhouse gas emissions for each GB of bandwidth saved, i.e., 3Kg CO2e/GB transmission. Every month Gumlet saves about 1,612 MT of CO2e from emitting. To give a perspective, the monthly reduction of greenhouse gas by Gumlet is equivalent to 15 Boeing 747 flying from Delhi to New York! Therefore, by installing Gumlet on your website, you are also doing your part to save humanity from the aggressive effects of climate change. Currently, the carbon footprint of Gumlet is 9.56MT/year. Sustainability is one of our core values, and we plan to offset our greenhouse gas emissions by 2025.

*Emission Factor 0.45: US energy mix
** Includes lifetime carbon footprint of servers